Chasing waves, changing lives
By Karen M. Romanelli
IT CHANGED HIS LIFE
Charlie Butler wrote poetry in the sand. The autistic pre-teen from Long Beach was barely verbal for much of his young life and communicated by making words using his fingers and toes at the beach.  But when Charlie turned 12, he found another way to express himself using sand and surf. He was introduced to Surf For All, a program that Charlie's mother, Kathy, says changed his life. He began first with swimming lessons through the program. Later, when he turned 16 and entered Long Beach High School, Butler participated in the "Surf For All" program offered through the district's special education summer school program. It was then that he not only learned how to surf, but he began to speak as well.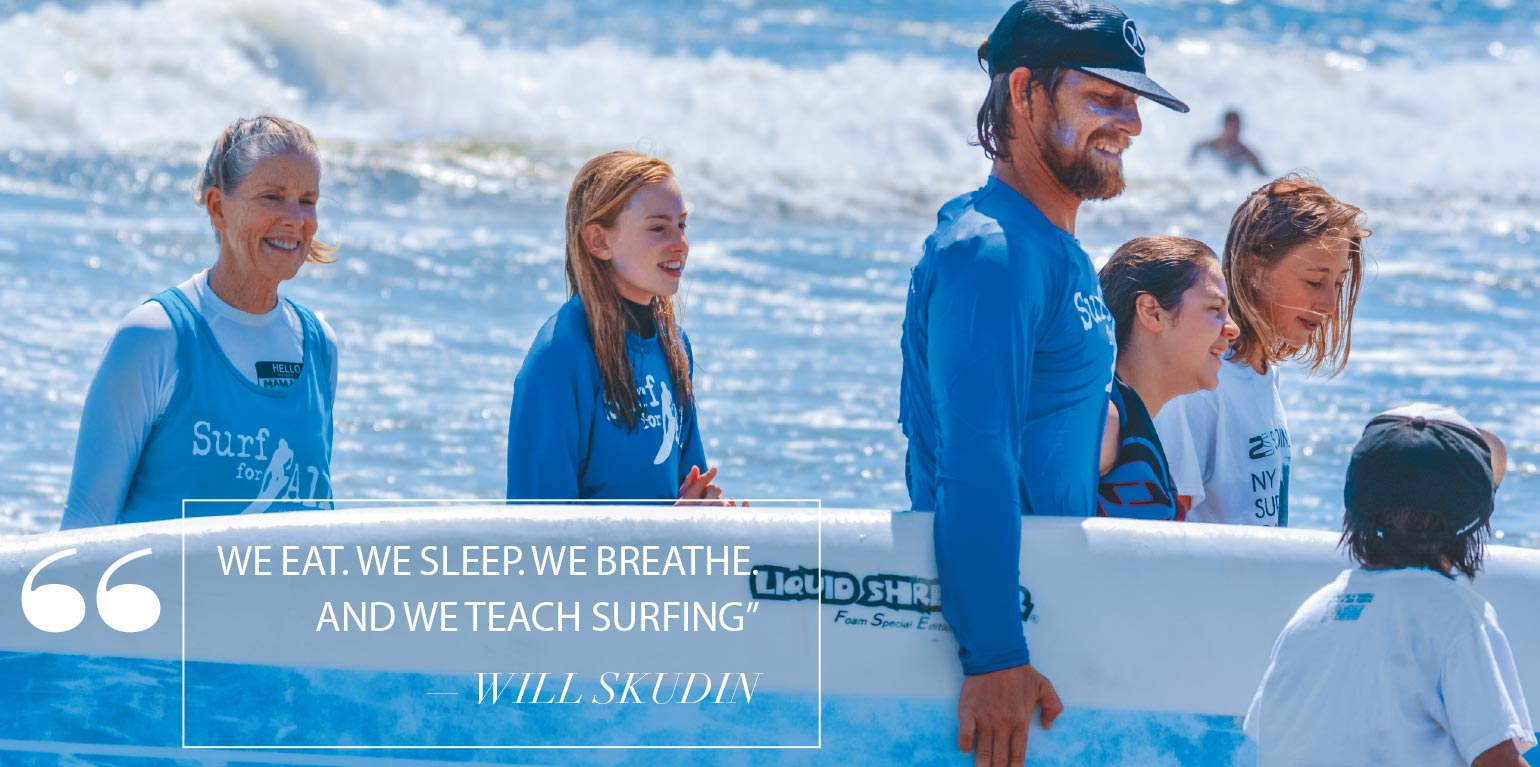 Will Skudin preparing to ride some waves with the students from the Henry Viscardi School last July. Photo credit: Dawn Shmaruk.
"Surfing completely raised the bar for Charlie," says his mom who credits the foundation for her son's remarkable development and remembers how terrified she was the first time Charlie attempted to surf seven years ago. Charlie was nervous too, but his self-esteem and confidence has since soared. Butler recognizes, "It's not just my son Charlie who has been helped. Kids with cancer, muscular dystrophy, blind children have all benefited from this incredible group."
BIG WAVES. IMMENSE PASSION. HUGE HEARTS.
Surf For All is a nonprofit that works with special needs children and adults, as well as those who have terminal illnesses or those who are living in underprivileged circumstances—even wounded warriors participate in the annual summer program.
So, how did this group come to be in the first place? Simple, three surfer dudes with huge hearts, one with an autistic son and all with the shared passion for the ocean saw a tremendous need for it on Long Island and founded the nonprofit in 2002.
"A lot of kids that come through our program are shy and timid," says co-founder Cliff Skudin, the Long Beach native, who along with his big wave professional surfer brother Will Skudin, own Skudin Surf. Their self-esteem is kind of low. They're not outgoing, they're just one of those kids that needs that spark. The two were born in Hawaii but returned to their Long Beach community roots with their family at the ages of six and three. The Skudin brothers' love for the ocean crosses generations. Both sets of grandparents were lifeguards and surf instructors. Even their ancestors were into surfing way before it was "modernized," explains Cliff, who says his mom, who also helps run the surf clinics, had him in the ocean at only two days old.
Enter Jim Mulvaney, fellow Long Beach resident, avid surfer and program founder who was inspired by a program called Surfers Healing, and the three set off to help thousands of Long Island special needs kids achieve something unimaginable. Mulvaney, a college professor and private investigator knows that being a parent of a special needs child sometimes means the child is too often coddled and has the parent thinking "oh he couldn't do that" but instead, these kids become surfers, which he calls an "unlikely accomplishment."
A WAVE OF SUPPORT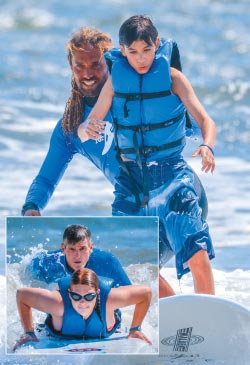 Catching waves with help from instructors. Photo credit Dawn Shmaruk.
The community has embraced the group, says Mulvaney, especially with emotional support by coming down to the beach to watch and cheer. "That's an enormous thing for these kids," he says. This summer will mark their 14th year of the program, which offers approximately 20 surf outings per week, taking a group of 20-25 students out into the water for two hours at a time. The loosely built foundation that holds no fundraising benefits—beyond selling T-shirts and hoodies—relies on the occasional spontaneous contribution and the support of its volunteers. Surf for All also partners with several community organizations, including United Cerebral Palsy of Nassau County, Long Beach Waterfront Warriors, Camp Abilities Long Island and The Henry Viscardi School.
"IT'S ABOUT THE POSSIBILITIES."
"We eat. We sleep. We breathe. And we teach surfing," says Will Skudin, who travels the globe chasing huge swells in hopes of achieving the top five spot in the professional surfing world. He credits his parents for the innate feeling to give back, and describes his experience instructing these children as a "humbling." It brings him "back to square one." Both brothers agree that what they get from the program is just as much a gift as it is for the participants. "These kids inspire me and keep me going to do more," says Cliff, who ultimately obtained a masters degree in adaptive physical education. The benefit to the young surfers is immeasurable.
"They did not see my son as an autistic kid. They saw him as a young man who they wanted to turn into a surfer," says his mom. 
With the confidence gained after riding the waves on their own, these kids get more than a lesson on how to "hang ten" as Butler can attest, "Surf For All is not about the disabilities. It's about the possibilities."
To learn more go to: surfforall.org.
Karen M. Romanelli lives in Stony Brook and is a freelance writer and Development Manager at the Cystic Fibrosis Foundation.
Article via Luxury Living Magazine